We Bring the Fun Back To Retail!
Our In-Store "Sugartainment" Experience
Welcome to the extraordinary world of IT'SUGAR, where working is a delightful treat! As a Cast Member, you'll have the opportunity to ignite your passion for creating unforgettable moments and allow our customers to awaken their inner child as they shop. Imagine immersing our customers in the ultimate "Sugartainment" experience using Ambiance, Emotion, Sound, and Energy. We achieve this with our vibrant and captivating candy displays, humorous products, party-style music, and high energy.
Your workday will be filled with laughter, sweetness, and the chance to make every customer visit an extraordinary experience they'll never forget. At IT'SUGAR, we believe in creating joyful memories that are as sweet as the candy we sell.
Day In The Life As a Cast Member
Your day begins with wearing your IT'SUGAR t-shirt and becoming a living, breathing part of the "Sugartainment" experience. Your mission? To create a joyous and engaging atmosphere for our candy-loving customers.
As our customers enter, you'll greet them with a warm smile, guiding them through their candy-filled journey and sharing your passion for all things sweet. Your infectious energy and playful personality will bring smiles to their faces as you introduce them to our larger-than-life candy displays. Whether it's engaging in a spontaneous dance-off or challenging them to candy trivia games, you'll make their visit unforgettable.
Throughout the day, you'll collaborate with your fellow Cast Members, sharing stories, laughter, and secret candy facts. Together, you'll ensure that every corner of the store is bursting with fun and excitement. And when it's time to say goodbye to our satisfied customers, you'll feel a sense of fulfillment knowing that you've created a moment of pure joy in their day.
Your day as a Cast Member will be anything but ordinary. It's a whirlwind of candy-coated happiness, laughter, and the opportunity to make a lasting impact on the lives of our customers. So, buckle up, embrace the sweet chaos, and get ready for a day that's as magical as the candies we offer.
Day In The Life As A Retail Manager
As you step into your role, you'll be greeted by a bustling store filled with colorful candies and eager customers. Your day begins with rallying your team, setting the tone for a successful day of providing an exceptional "Sugartainment" experience.
You'll dive into various tasks, from overseeing inventory management and visual merchandising to ensuring the store is well-stocked and visually appealing. With your keen eye for detail, you'll create enticing displays that catch our customers' attention and immerse them in our sugary world.
Throughout the day, you'll provide guidance and support to your team, fostering a positive and collaborative work environment. Whether it's coaching a team member on product knowledge or celebrating their achievements, your leadership skills will shine as you motivate and inspire your team to deliver exceptional experiences. As challenges arise, you'll handle them with positivity and grace, finding creative solutions to ensure customer satisfaction and maintain operational efficiency. Your role as a Retail Manager is not only about driving sales and managing operations but also about creating memorable moments that make IT'SUGAR a destination for sweet experiences.
At the end of the day, you'll reflect on the smiles you've brought to our customer's faces, the positive impact you've made on your team, and the satisfaction of knowing you've contributed to a fun and engaging atmosphere.
Day In The Life As a District Manager
As you step into your role, you'll oversee multiple store locations within your district, each filled with delicious candies and enthusiastic teams. You'll collaborate closely with Retail Managers, providing guidance and support to ensure consistent implementation of company initiatives snd adherence to operational standards. Conducting store visits, you'll assess store performance, provide feedback on visual merchandising, and engage with our cast Members and customers to ensure a memorable experience. Your leadership skills will shine as you inspire and motivate your teams, fostering a culture of excellence and customer-centricity.
Throughout the day, you'll strategize and develop plans to maximize sales, optimize inventory levels, and drive operational efficiency. Collaborating with cross-functional teams, you'll participate in meetings to align on business objectives, share best practices, and contribute to the development of company-wide initiatives. Your role as a District Manager involves building strong relationships with store teams, cultivating a supportive and engaging work environment, and identifying opportunities for talent development and succession planning.
As ambassadors of "Sugartainment", you hold the power to create unforgettable moments with our customers! First impressions are vital, and we want every encounter to reflect our commitment to creating a positive and welcoming environment. Show off your IT'SUGAR pride with our stylish shirts available in Navy and Purple and multiple styles! You can also buy and wear any of the candy-branded t-shirts we sell. Express yourself with jeans in solid neutrals or shades of blue and black. Keep safety in mind with closed-toe shoes, sneakers, flats, or regular walking shoes. Comfy feet are "Happy" feet!
Being neat, clean, and put-together is essential, not only for a positive "Sugartainment" experience but also to foster an atmosphere where everyone feels welcomed. Our customers seek a lively and engaging in-store experience, and how you show up to work significantly impacts their journey.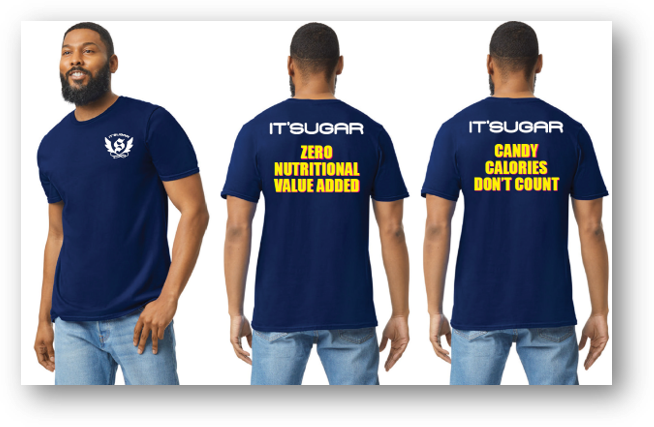 From the moment you join our team, you'll have access to a wealth of resources and development programs designed to enhance your skills and propel your career forward. Whether you're starting as a Sales Associate or stepping into a leadership role, we provide ongoing training and mentorship to support your professional growth.
As you progress in your career at IT'SUGAR, you'll benefit from our commitment to nurturing talent and promoting from within. We provide regular performance feedback and growth conversations to help you chart your career path and identify areas for improvement. We also offer competency development training programs and leadership development initiatives to sharpen your skills and prepare you for future opportunities.
Our supportive and collaborative work environment allows for learning from experienced team members and fostering meaningful connections. Whether you aspire to become a Store Manager, District Manager, or pursue a career in other areas of our organization, we are dedicated to providing the necessary tools, guidance, and opportunities for you to achieve your career goals. At IT'SUGAR, your growth and success are important to us, and we are invested in helping you reach new heights within our retail organization.
Great People To Work With, Great Hours, And Having Fun Assisting Customers. – Glassdoor Review