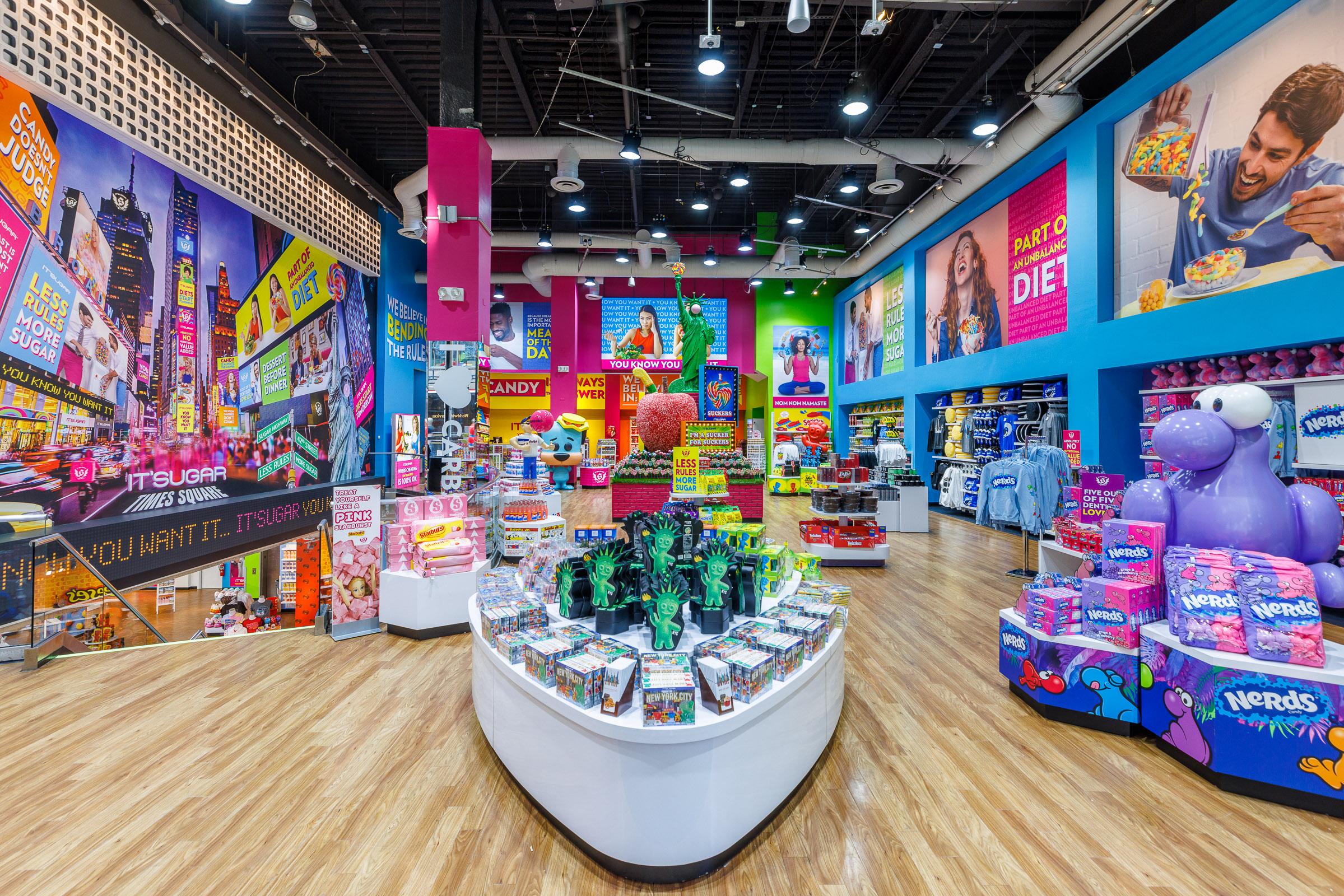 IT'S NOT JUST ANOTHER CANDY STORE
At IT'SUGAR, we believe that happiness and humor are essential ingredients for an extraordinary workplace. Founded in 2006 by confections and candy enthusiast Jeff Rubin, IT'SUGAR has evolved into one of the world's largest specialty Candy "Retailtainers." We go beyond selling sugary treats. We've elevated the world of confectionery by transforming your favorite sweets into a vibrant lifestyle. Imagine candy-inspired candles, pillows tempting enough to nibble on, shirts that declare your "sweet tooth" status, cozy sweaters, funky socks, and even mugs that give your morning coffee a sugar rush. Our mission is to create an environment where our beloved customers, can break the rules, indulge in pure joy, and experience moments of laughter and delight.
In 2017, IT'SUGAR embarked on an exciting new chapter with BBX Capital. This partnership fueled our growth, allowing us to expand to over 100 retail stores across 28 states and 2 countries. We even opened four candy department stores, with our largest location spanning a massive 30,000 square feet. In 2022, we made our mark in Canada with the opening of our West Edmonton store.
What sets IT'SUGAR apart from other candy retailers is our "Sugartainer" approach. We believe in using Ambience, Sound, Emotion, and Energy to create an immersive and unforgettable experience for our customers. Our products offer an unconventional twist on traditional candy, providing a humorous escape from everyday life. Step into our vibrant stores, and you'll be greeted with bright colors, energetic music, and an atmosphere that exudes excitement. Our team members embody our Core Values of being Positive, Playful, always Present, and Difference-Makers. They bring "Sugartainment" to life.
Jeff Rubin, Founder of IT'SUGAR
Jeff has had a remarkable 20-year career in the confections industry, leaving a lasting impact as a visionary leader. He began in the early 1990s, pioneering traditional Bulk Candy Stores with his family, which became popular nationwide. In 1995, he established "FAO Schweetz" within FAO Schwartz toy stores, a candy department that gained immense popularity.
Jeff's creativity extends beyond traditional retail as he designed candy shops for giants like Warner Brothers Studio Stores, Toys R Us Flagship Store, and Sony. He also played a pivotal role in opening Hershey's Chocolate World's flagship store in Times Square. In 2001, Jeff collaborated with Dylan Lauren to co-create Dylan's Candy Bar, gaining international recognition from the candy industry, business community, and fashion press.
In 2006, he ventured out on his own and opened the first IT'SUGAR store in Atlantic City, NJ. With unparalleled creativity, industry expertise, and an unwavering commitment to providing unforgettable experiences, Jeff has revolutionized the world of candy retail, shaping the industry's landscape and delighting customers nationwide.
Today, Jeff remains actively involved in the business, providing support and guidance in his role as Chairman.
Jarett Levan, President and CEO of BBX Capital, CEO of BBX Sweet Holdings, and CEO of IT'SUGAR
Meet Jarett Levan, a confections candy enthusiast at heart and a visionary leader making a delightful impact in the world of confections! As the President and CEO of BBX Capital, Inc., a diversified holding company, Jarett's passion for investing and fostering remarkable enterprises knows no bounds.
He is also the CEO of BBX Sweet Holdings, a company with an enchanting portfolio of sweet experiences. From the delectable Hoffman's Chocolates, a cherished South Florida chain of chocolate and scoop shops, to Las Olas Confections and Snacks, a candy manufacturer most known for their Anastasia Coconut Patties, to IT'SUGAR, Jarett brings a touch of sweetness to every corner.
Beyond the world of confections candy, Jarett's heart shines through his dedication to the arts, education, and community development. Serving on the boards of organizations like Broward Performing Arts Foundation, Business for the Arts of Broward, Broward College Foundation, and Greater Fort Lauderdale Alliance, he leaves a lasting impression wherever he goes.
IT'S Being Positive
Click Here
We think optimistically. At IT'SUGAR, we choose a positive outlook, it inspires those around us to do the same!
IT'S Being Playful
Click Here
We strive to create a fun environment that celebrates light-heartedness, a feeling of engagement, and a certain kind of connection and enthusiasm. We celebrate your smiles and laughter without judgment.
IT'S Being Present
Click Here
We go all out to connect with our customers and co-workers in the moment. We focus on every word exchanged and listen to learn.
IT'S Being a Difference Maker
Click Here
We pursue excellence in ourselves and our craft while inspiring the same in others. We always deliver on our promise by creating extraordinary and meaningful moments for others.
We Celebrate Our Differences
We believe that our success is driven by our team members' diverse perspectives and experiences. At IT'SUGAR, we are dedicated to creating a workplace culture that not only thrives on its diversity but also harnesses it as a catalyst for positive social impact. We foster an environment of collaboration, innovation, and creativity. A place where you can be unapologetically yourself.
Our pride stems from providing an inclusive and nurturing work environment that places a premium on recognizing and celebrating the distinctive contributions of every team member. We wholeheartedly welcome and encourage all candidates to apply, regardless of their background, race, gender, sexual orientation, age, religion, disability, non-binary identity, or any other facet of their unique identity.